St Hugh's College, Tollerton, opened in 1948 and closed in 1986.
2018 was therefore the seventieth anniversary of the College opening and the celebration of this event took place in Lincoln Cathedral on Friday 16 November.
Courtesy of the Dean and Chapter, there was Mass in Saint Hugh's Quire at 11.30 am with Bernard Needham as the chief celebrant. Lunch followed in the Chapter House at 12.30pm, and a Reunion Party in the town centre that evening to relive old memories with friends, past and present.
The thumbnails above link to photos, a copy of the programme and several short videos of the event.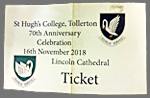 Sister Eucharia was unable to make the trip from Glasgow but was delighted to receive the card signed by Old Boys at the Reunion and sent her thanks to you all.